How Old Was Suzanne Somers At The Time Of Her Death?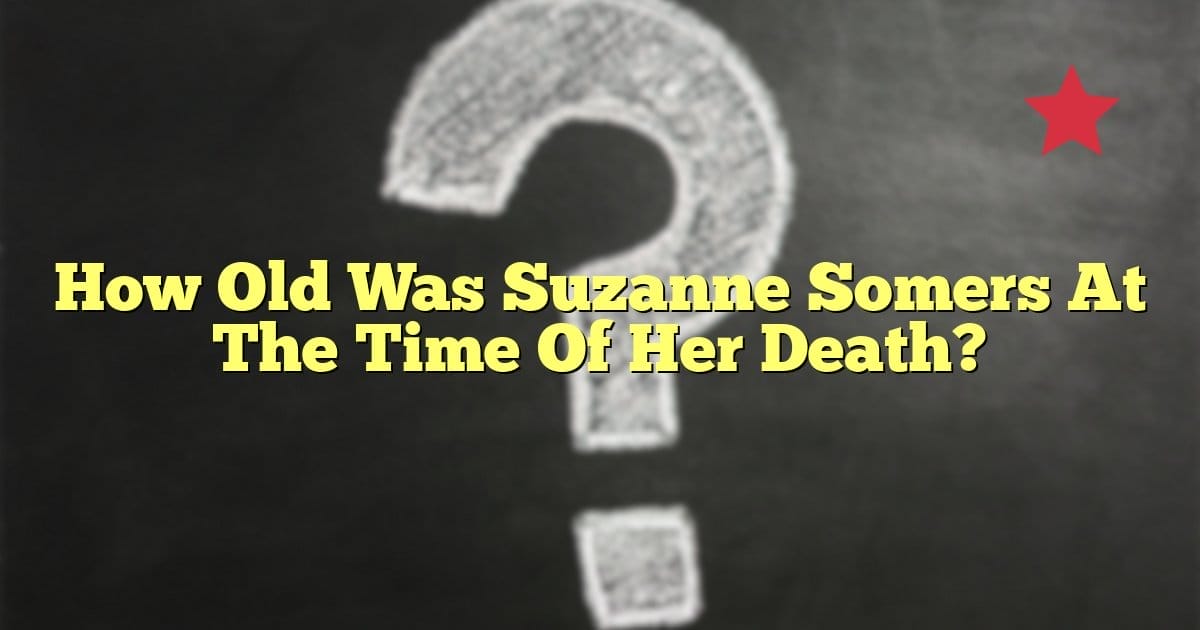 Suzanne Somers was 76 years old at the time of her death, but it is sad to say that after 1 day it was her 77th birthday. She was born on October 16, 1946 and died on October 15, 2023.
She is a well-known American actress, author, and businesswoman, has captivated audiences for decades with her talent and charm.
With a career spanning from the late 1960s to her unfortunate passing in 2023, Somers made a significant impact in the entertainment industry.
In this article, we will delve into the life and career of Suzanne Somers, exploring her early years, rise to fame, notable works, and her age at the time of her passing.
So, let's answer the burning question: how old is Suzanne Somers?
You may also need to know Suzanne Somers Last Wish Revealed By Husband Alan Hamel.
Suzanne Somers' Age at the Time of Her Passing
Tragically, Suzanne Somers passed away on October 15, 2023, one day before her 77th birthday. She had been battling breast cancer, which had returned earlier in the year.
Somers' passing marked the end of an era in the entertainment industry, leaving behind a legacy of talent, resilience, and entrepreneurial spirit.
Early Life and Career
Suzanne Marie Mahoney was born on 16 October 1946, in San Bruno, California. She grew up in a working-class Irish-American Catholic family and was the third of four children.
Her mother, Marion Elizabeth, worked as a medical secretary, while her father, Francis Mahoney, was a laborer and gardener.
You will be surprised to know that her father was an alcoholic person and also an abusive father. She experienced bedwetting until the age of 12, which led to additional abuse from her father.
Despite these hardships, Somers attended Mercy High School in Burlingame, California, where she developed a passion for acting and performed in various school productions.
After high school, Somers briefly attended Lone Mountain College but withdrew when she discovered she was pregnant. At the age of 19, she married her child's father, Bruce Somers. After three years the marriage ends in divorce. During this time, Somers faced financial difficulties and even got arrested for check fraud.
Television Breakthrough: Three's Company
Somers' breakthrough in the television industry came with her role as Chrissy Snow in the hit sitcom Three's Company. The show, which aired from 1977 to 1981, propelled Somers to stardom. She portrayed the lovable and naïve Chrissy, one of the three roommates living together in a hilarious and often misunderstood living arrangement.
Her performance on Three's Company earned her widespread recognition and critical acclaim. Somers' comedic timing and chemistry with co-star John Ritter made the show a huge success. However, her time on Three's Company was not without controversy.
Somers demanded a significant salary increase, leading to conflicts with the network, which ultimately resulted in her departure from the show.
Post-Three's Company Career
After leaving Three's Company, Somers pursued various projects to showcase her versatility as an actress. She appeared in movies such as "American Graffiti" and "Magnum Force" and guest-starred in popular TV shows like "The Six Million Dollar Man" and "The Love Boat."
Somers also made headlines with her appearances in Playboy magazine, which she later sued for publishing unauthorized nude photos.
In the 1990s, Somers made a successful return to television with the sitcom "Step by Step." The show, which aired from 1991 to 1998, followed the lives of two single parents who decide to merge their families through marriage. Somers played the role of Carol Foster Lambert, a strong and loving stepmother.
FAQ about Suzanne Somers
What is Suzanne Somers' most famous role?
Suzanne Somers is most famous for her role as Chrissy Snow in the sitcom Three's Company.
Did Suzanne Somers win any awards for her acting?
While she did not win any major awards, Somers' performances on Three's Company earned her multiple nominations, including a Golden Globe nomination.
Was Suzanne Somers married more than once?
Yes, Suzanne Somers was married twice. Her first marriage to Bruce Somers ended in divorce, and she later married Alan Hamel in 1977.
Did Suzanne Somers have any children?
Yes, Suzanne Somers had one child, a son named Bruce Somers Jr.
What were Suzanne Somers' other notable television shows?
In addition to Three's Company and Step by Step, Suzanne Somers appeared in shows like She's the Sheriff and made numerous guest appearances throughout her career.
Did Suzanne Somers continue acting after Step by Step?
While she continued to make occasional appearances on television, Suzanne Somers focused more on her career as an author and businesswoman in later years.
What were some of Suzanne Somers' bestselling books?
Suzanne Somers wrote over 25 books, including bestsellers like "Ageless," "The Sexy Years," and "Knockout."
Did Suzanne Somers face any controversies during her career?
Yes, Suzanne Somers faced controversies regarding her promotion of bioidentical hormone replacement therapy and alternative cancer treatments.
What was Suzanne Somers' cause of death?
Suzanne Somers passed away due to complications from breast cancer.
What is Suzanne Somers' legacy in the entertainment industry?
Suzanne Somers leaves behind a legacy of memorable performances and her contributions to the health and wellness industry through her books and advocacy for alternative treatments.
Suzanne Somers was a beloved actress, author, and businesswoman who left an indelible mark on the entertainment industry. From her breakout role in Three's Company to her successful career as an author, Somers captivated audiences with her talent and passion.
Although she is no longer with us, her legacy will live on, inspiring future generations of entertainers and entrepreneurs. Suzanne Somers will forever be remembered as a talented and influential figure in the world of entertainment.