How Old is Chris Stapleton Country Singer? (Early Life, Career, Personal Life and More)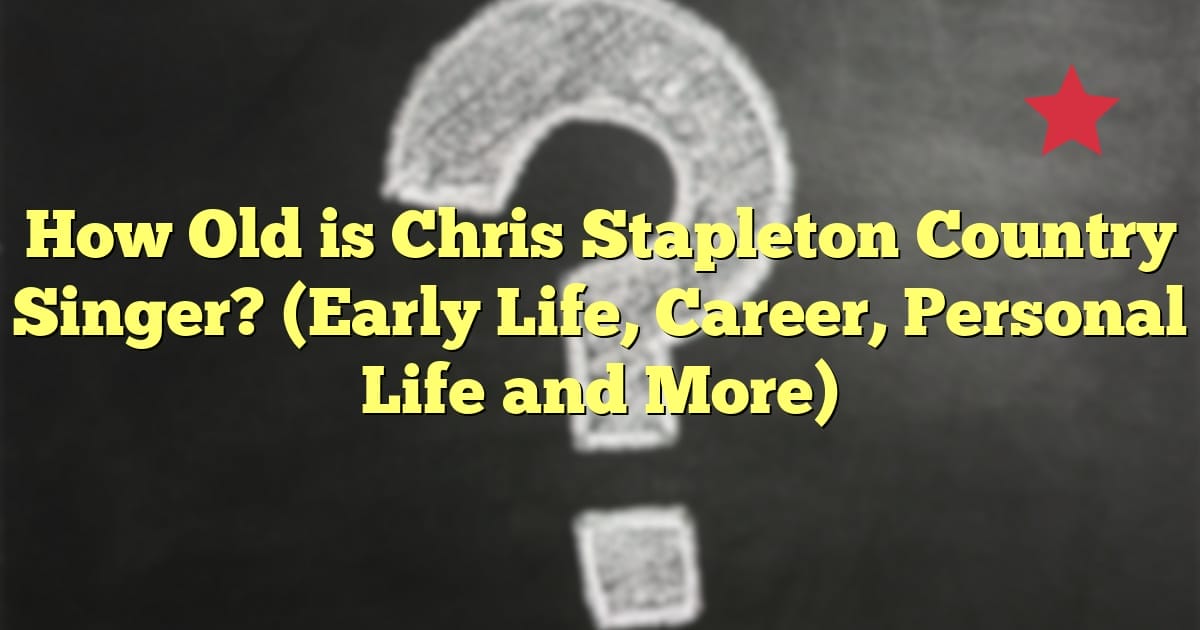 Chris Stapleton, the American country singer, was born on April 15, 1978, making him 45 years old as of 2023. Known for his soulful voice and heartfelt lyrics, Stapleton has become a prominent figure in the country music industry.
Hailing from Lexington, Kentucky, Stapleton grew up in a small town called Staffordsville. He attended Johnson Central High School and excelled both academically and athletically. After graduating as the valedictorian of his class, Stapleton briefly pursued an engineering degree at Vanderbilt University before deciding to follow his passion for music.
With his move to Nashville, Tennessee in 2001, Stapleton embarked on a musical journey that would eventually lead him to great success. Initially, he signed a publishing deal and began writing songs for other artists. He was also a member of several bands, most notably The SteelDrivers and The Jompson Brothers, before venturing out as a solo artist.
Over the years, Stapleton's talent and dedication to his craft have earned him numerous accolades. He has received eight Grammy Awards, 10 Academy of Country Music (ACM) Awards, and 14 Country Music Association (CMA) Awards. His albums, including "Traveller," "From a Room: Volume 1," and "From a Room: Volume 2," have been praised by critics and fans alike.
While Stapleton's music career has taken center stage, he also treasures his personal life. He is happily married to Morgane Hayes, a fellow singer-songwriter. The couple tied the knot in 2007 and has five children together, including twin boys born in 2018. Stapleton values privacy when it comes to his family and strives to provide his children with a normal upbringing away from the spotlight.
Chris Stapleton's talent, authenticity, and down-to-earth nature have endeared him to fans around the world. Whether through his soul-stirring performances or heartfelt songwriting, he continues to leave an indelible mark on the country music landscape.
Chris Stapleton Early Life and Career
Chris Stapleton, the renowned American country singer, was raised in a humble background in Lexington, Kentucky. Born on April 15, 1978, Stapleton's parents, Carol J. Stapleton and Herbert Joseph Stapleton Jr., had ordinary jobs, his mother worked at the local health department, while his father was an engineer in the coal mines.
Growing up, Stapleton had an older brother and a younger sister, and together they navigated the challenges and joys of their small-town upbringing.
Stapleton's academic journey led him to Johnson Central High School, where he showed his multitasking abilities by excelling both academically and athletically. Not only did he attain the honor of valedictorian, but he also proved his mettle on the football field. It was during this time that Stapleton's passion for music truly began to take shape.
After a year of studying engineering at Vanderbilt University, Stapleton made a life-changing decision to follow his dreams in the world of music. In 2001, he moved to Nashville, Tennessee, the heart of the Country music industry.
It was there that he signed a publishing deal and established himself as a talented songwriter, penning hits for artists across genres. He gained recognition as the lead singer of the bluegrass band, The SteelDrivers, and later formed the rock band, The Jompson Brothers. In 2013, Stapleton embarked on his solo career, signing with Mercury Nashville, and the rest is history.
Stapleton's music career has been marked by his distinctive voice, soulful lyrics, and passion for storytelling. His unique blend of Country, Rock, and Blues has resonated with audiences around the world, earning him critical acclaim and a dedicated fan base.
As he continues to evolve as an artist, Chris Stapleton's early life and career remain foundational to the path he has traveled and the remarkable artist he has become.
Chris Stapleton Achievements
Chris Stapleton has had a remarkable career, marked by numerous awards and accolades. His talent and dedication to his music have earned him recognition from both critics and industry professionals.
One of the highlights of Stapleton's career has been his Grammy Awards success. He has won a total of eight Grammy Awards so far, including prestigious categories such as Best Country Album and Best Country Solo Performance. His powerful and soulful voice, along with his exceptional songwriting skills, have made him a favorite among Grammy voters.
In addition to his Grammy wins, Chris Stapleton has been a dominant force at the Country Music Association (CMA) Awards. He has garnered a staggering 14 CMA Awards, including multiple wins for Male Vocalist of the Year. Stapleton's albums have also been recognized at the CMAs, with his debut solo album, "Traveller," winning the coveted Album of the Year award.
Furthermore, Stapleton has been honored at the Academy of Country Music (ACM) Awards, where he has received 10 awards in various categories. His authentic and heartfelt approach to country music has resonated with fans and industry insiders alike.
Personal Life and Family of Chris Stapleton
In terms of Chris Stapleton's personal life, he is happily married to Morgane Hayes, a talented singer-songwriter who has also worked with Carrie Underwood. I find it interesting that they first crossed paths while pursuing their music careers. The couple tied the knot in 2007 and has since built a beautiful family together.
Together, Chris and Morgane have been blessed with five children, including twin boys who were born in 2018. Although Chris is known for being private when it comes to his personal life, it is heartwarming to hear him speak about the importance of shielding his children from the public eye and allowing them to experience a normal childhood.
Chris Stapleton's dedication to maintaining the privacy of his family is admirable. While he may be a renowned country singer, he values keeping his personal life separate from the spotlight. Instead, he focuses on creating incredible music that resonates with his fans and garners him well-deserved recognition.